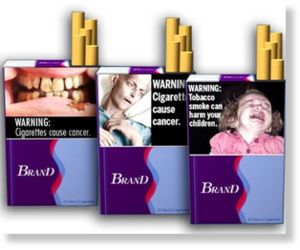 Coming to a store near you: nine more reasons not to smoke.
The Food and Drug Administration on Tuesday is set to release nine new graphic health warning labels for U.S. cigarette packs, representing the most significant change to cigarette packs in more than 25 years.
The new labels will take up half of a pack of cigarettes and also will appear on advertisements. Cigarette makers have until the fall of 2012 to comply.
Mandates for new warning labels were part of a 2009 law giving the FDA authority to regulate tobacco. The announcement follows reviews of scientific literature, public comments and results from a study of 36 labels proposed last November.
The U.S. first mandated warning labels in 1965. Current warning labels were put on packs in the mid-1980s.
Source: The Associated Press