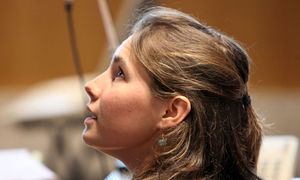 Hectic scenes in Italian appeal by two of Meredith Kercher's convicted killers as lawyers swap claims of corrupt evidence
The appeal by Amanda Knox and Raffaele Sollecito against their convictions for killing British student Meredith Kercher has taken a surreal turn with two prosecution witnesses accusing a defence lawyer of offering to pay for a witness's sex change.
In a hectic session, Rudy Guede - the Ivorian already convicted for his role in the 2007 killing - started proceedings by accusing Knox and Sollecito for the first time in court of killing Kercher, prompting Knox to rise and tell the court she was "shocked and anguished" by his accusation. "He knows we were not there and were not involved," she said.
Guede was called from Viterbo jail, where he is serving 16 years, to respond to claims by a fellow inmate that he had confided that Knox and Sollecito had played no role in the murder of Kercher, whose throat was cut in the flat she shared with Knox in Perugia.