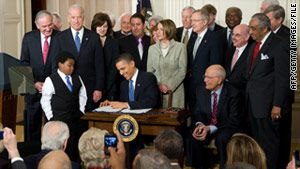 The political and legal future of the sweeping health care reform bill received a big boost Wednesday after a federal appeals court in Cincinnati ruled in favor of the Obama administration and Congress, concluding a key provision in the landmark legislation was constitutional.
The "individual mandate" requiring nearly all Americans to purchase health insurance by 2014 or face financial penalties -- was challenged in federal courts by a large number of individuals and groups, who said people should not be forced to purchase a product like medical coverage. A partially divided U.S. Court of Appeals for the 6th Circuit disagreed.
"We find that the minimum coverage provision is a valid exercise of legislative power by Congress under the Commerce Clause," said the three-judge panel on Wednesday, in a 64-page opinion.