Society's Child
---
---
MSNBC
Wed, 09 Mar 2011 21:09 UTC
---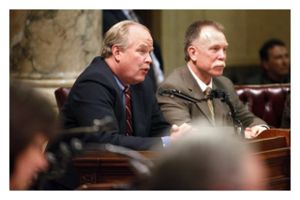 Madison, Wisconsin - The Wisconsin Senate voted Wednesday night to strip nearly all collective bargaining rights from public workers, approving an explosive proposal that had rocked the state and unions nationwide after Republicans discovered a way to bypass the chamber's missing Democrats.
All 14 Senate Democrats fled to Illinois nearly three weeks ago, preventing the chamber from having enough members present to consider Gov. Scott Walker's "budget-repair bill" - a proposal introduced to plug a $137 million budget shortfall.
The Senate requires a quorum to take up any measures that spend money. But Republicans on Wednesday separated from the legislation the proposal to curtail union rights, which spends no money, and a special committee of lawmakers from both the Senate and Assembly approved the bill a short time later.
---
Michelle Martin
Reuters
Wed, 09 Mar 2011 08:22 UTC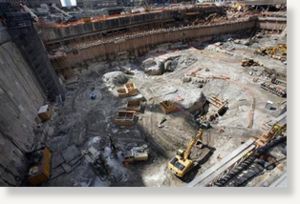 Plans to erect a sculpture in a London park using girders salvaged from New York's World Trade Center, which was destroyed in attacks on September 11, 2001, have been put on hold after victims' families complained.
The memorial, designed by Japanese-Russian artist Miya Ando, was to be crafted from twisted shards of steel ranging between 5 and 8 meters (yards) in height, standing in a pool with lights.
"It is my hope that by standing upright the fallen steel columns, I may evoke a quiet yet strong message of transcendence and the role of education in the growth of hope from tragedy," New York-based Ando said in a statement submitted with the planning application.
London's Southwark Council approved the plans last December and the sculpture was due to be inaugurated in London's Potters Fields Park this September to accompany an educational program and commemorate the 10th anniversary of the attacks by suicide hijackers who flew two planes into the World Trade Center, killing nearly three thousand people.
Trustees of the 9/11 London Project Foundation -- the educational charity which commissioned the sculpture -- on Wednesday said they had decided to extend a consultation period for the artwork after "significant concerns" were raised, especially by British families.
---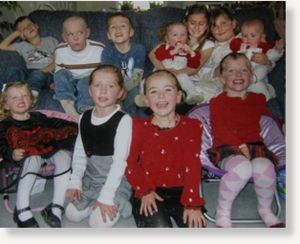 Seven children including a 7-month-old infant perished in a fast-moving fire in a home on a Pennsylvania dairy farm while their mother milked cows and their father dozed in a milk truck down the road, police said Wednesday.
No cause or origin of the fire had been determined by early Wednesday morning, but the children's grandfather, Noah Sauder, told The Associated Press the blaze may have started in the kitchen, where the family used a propane heater. Fire marshals were investigating.
Public records indicate the parents are Theodore and Janelle Clouse. A neighbour described the family as hard-working.
Police said the children's father had left the two-story home on a working farm in dairy country not far from the state capital, to begin his rounds hauling milk around 10 p.m. Tuesday. Two children, ages 2 and 3, were watching television at the time.
The father picked up milk and then parked the truck about a mile from home before nodding off, state police Trooper Tom Pinkerton said.
Soon after, the 3-year-old smelled smoke in the home and ran to the barn to alert her mother, who apparently tried to get into the house. The woman then ran to the homes of two neighbours before getting someone to call firefighters, then ran with the child to the father's truck and banged on its windows, screaming that their home was on fire, he said.
---
Peter Hoskins
Sky.com
Wed, 09 Mar 2011 11:52 UTC
A senior economist at the worldwide bank HSBC has warned of civil unrest in Britain if food prices continue to soar.


---
Rick Unger
Forbes
Fri, 04 Mar 2011 11:33 UTC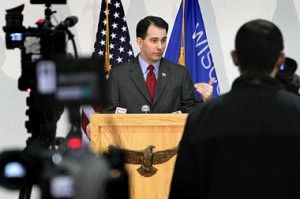 In what may be the result of one of the great political miscalculations of our time, Scott Walker's popularity in his home state is fast going down the tubes.
A Rasmussen
poll
out today reveals that almost 60% of likely Wisconsin voters now disapprove of their aggressive governor's performance, with 48% strongly disapproving.
While these numbers are clearly indicators of a strategy gone horribly wrong, there are some additional findings in the poll that I suspect deserve even greater attention.
It turns out that the state's public school teachers are very popular with their fellow Badgers. With 77% of those polled holding a high opinion of their educators, it is not particularly surprising that only 32% among households with children in the public school system approve of the governor's performance. Sixty-seven percent (67%) disapprove, including 54% who strongly disapprove.
Can anyone imagine a politician succeeding with numbers like this among people who have kids?
These numbers should be of great concern not only to Governor Walker but to governors everywhere who were planning to follow down the path of war with state employee unions. You can't take on the state worker unions without taking on the teachers - and the teachers are more popular than Gov. Walker and his cohorts appear to realize.
---
Oak Park - Police are investigating the death of a man whose body was found near the top of a 1,000 foot radio broadcast tower Tuesday.

The man was reportedly wearing only a T-shirt and underwear when he was discovered on a platform on the tower.

Police said workers discovered the body of a young black man about 12:30 p.m. after they scaled the tower at 20931 Meyers near Eight Mile Road to do repair work.
---
State health officials investigating pathogen that affected swimmers, coaches, parents at statewide competition

Nearly 100 people have reported symptoms of viral gastroenteritis after a weekend swim meet at the U.S. Naval Academy in Annapolis, state health officials said.

Several athletes got sick on the pool deck during the finals session of the Maryland State Swimming Championships on Saturday, according to a letter on the Maryland Swimming website.

Of the 99 people who reported illnesses to Maryland Swimming after the weekend's events, 89 were swimmers, about seven or eight others were officials or coaches on the pool deck and others were parents or spectators, said Raymond Brown, the organization' s general chair.

"This is unprecedented," he said.

The state health department is still testing stool samples from people who were sick to determine exactly what pathogen caused the illness, said Dr. Lucy Wilson, chief of the health department's center for surveillance, infection prevention and outbreak response. However, the symptoms match those of viral gastroenteritis, which typically passes within 24 to 48 hours, she said.

Gastroenteritis is caused by noroviruses, which are normally transmitted through contact with an infected person, such as sharing food or a water bottle, or on dirty towels or bathroom doorknobs - "anything where the virus would be on the material," Wilson said.
---