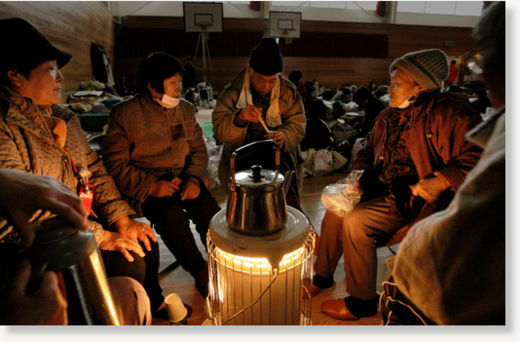 A week after their lives were turned upside down by the biggest recorded earthquake in Japan's history, many survivors are too shocked to contemplate the future.
"My house does not exist anymore. Everything is gone, including money," said Tsukasa Sato, a 74-year-old barber with a heart condition, as he warmed his hands in front of a stove at a shelter in Yamada, northern Japan.
"This is where I was born, so I want to stay here. I don't know how it will turn out, but this is my hope."
The government said on Friday it was considering moving some of the hundreds of thousands of evacuees such as Sato to parts of the country unscathed by last week's tsunami and earthquake that killed thousands of people.
"We are considering it and making arrangements," Chief Cabinet Secretary Yukio Edano told reporters.
That just adds to the uncertainty for victims like Sato, as snow continues to fall gently on what remains of the town -- once home to nearly 20,000 people but now a wasteland of shattered and charred rubble.
Much of what wasn't destroyed by the magnitude 9.0 earthquake was smashed to bits by the subsequent tsunami; what escaped the giant waves was torched by fires that broke out in the aftermath.