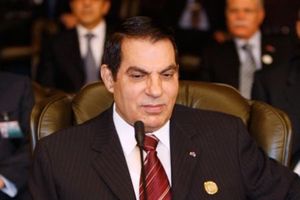 Deposed Tunisian president Zine El Abidine Ben Ali has reportedly slipped into a coma after suffering a stroke and is currently hospitalized in Saudi Arabia.
French newspaper
Le Monde
reported on Thursday that Ben Ali had a stroke earlier this week in Saudi Arabia, where he fled to in January following his ouster.
The paper has described the deposed president's condition as "worrying," citing the blog of French journalist Nicolas Beau, a veteran reporter specializing in Tunisia.
The 74-year-old reportedly slipped into a coma on Tuesday while being treated in a Jeddah hospital after suffering a stroke.
The hospital in Jeddah, where Ben Ali was admitted under false identity, is reserved for Saudi princes, according to
Le Monde
.