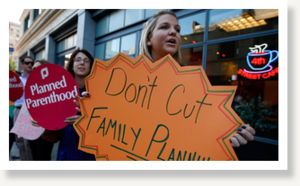 Former Planned Parenthood volunteer takes proposal to cut funds personally.
A threat an elderly Guilford is accused of making over Planned Parenthood funding doesn't quite jibe with recent efforts to be more civil in political discourse.
The woman is accused of threatening to castrate a politician who wants to cut funding for Planned Parenthood, the
New Haven Register reports
.
The FBI went to the woman's home on Norton Road on Tuesday afternoon, after receiving a report of the phone call threat.
The woman is in her 80s and used to volunteer for
Planned Parenthood
, police told the newspaper. It's unclear which politician she threatened.