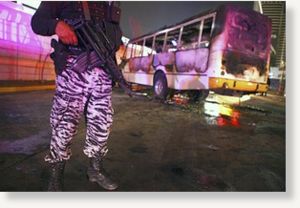 A spate of attacks on taxis in the Mexican resort city of Acapulco has left 12 taxi drivers or passengers dead, police said Sunday, just hours before the Mexican Open tennis tournament is scheduled to start.
Acapulco has been the scene of bloody drug cartel turf wars, and taxi drivers have often been targeted for extortion or recruited by the gangs to act as lookouts or transport drugs.
The organizers of the largest tennis tournament in Latin America said in a statement Sunday that the Mexican government has assured them that appropriate security measures have been taken for the event that starts Monday.
Police in Guerrero state, where Acapulco is located, said that four suspects had been detained in relation with some of the attacks. The suspects had guns, a grenade and a machete that police say may have been used to decapitate some of the victims.
The attacks began Friday, when five taxi drivers were found dead in or near their vehicles.
The slaughter continued Saturday, when a driver was found bound and shot to death near his taxi, and two others were found dead of bullet wounds inside their vehicles. One of the drivers had been beheaded.