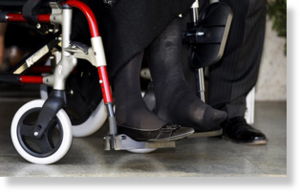 Texas, Houston - A wheelchair request can put you at the front of a long airport line.
Or, at least, that's the angle some fully-abled passengers are using to cut through the winding queues at airport security checkpoints, the
New York Times
reported. According to the 1986 Air Carrier Access Act, airlines are required to accommodate disabled travelers - who need not show any proof of disability - free of charge.
And this isn't news to airport staffers.
"When [travelers] see that the line is so long, they just ask for a wheelchair," Evelyn Danquah, an attendant for Delta Air Lines, told the
Times
. She said she has seen some wheelchair fakers stand and walk away as soon as they clear security. Wheelchair attendants - whose salaries range between $9 and $14 an hour, with tips, help to maintain a "don't ask, don't tell" policy regarding the line-hopping strategy in hopes of bolstering their paychecks, the
Times
reported.
The tactic even spawned a new term among flight attendants: "miracle flights." Where passengers use wheelchairs to board but abandon them when their planes land.
Kelly Skyles, the national safety and security coordinator for the Association of Professional Flight Attendants, told the
Times
she believes travelers shed their wheelchairs because passengers in wheelchairs are the last to leave the plane.