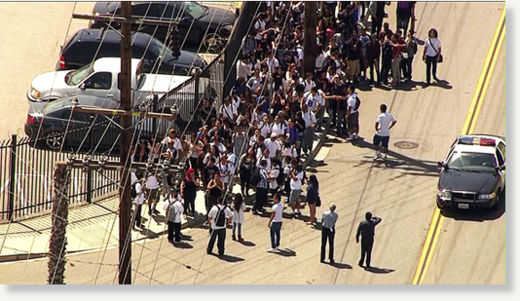 An estimated 250 to 300 students from Huntington Park High School organized a walkout to protest the anticipated replacement of at least half the school's teachers.
The Los Angeles Board of Education is scheduled to vote Tuesday afternoon on the aggressive school-improvement strategy, which has been pushed by board member Yolie Flores, a graduate of Huntington Park High who represents the area.
According to one walkout participant, students gathered in an outdoor area of campus and refused to go to class at about 10 a.m. The intended destination of protest leaders was the headquarters of the Los Angeles Unified School District, located just west of downtown, where a public meeting was scheduled to begin at 1 p.m. The nearly seven-mile trek through busy city streets was expected to take two hours or more.
An estimated 10 to 15 adults from the school were accompanying the students, a standard precaution to try to keep students safe.
An internal district memo indicated that no bus transportation would be provided to return students to campus. For some past protests the district has provided such transportation as a safety measure.