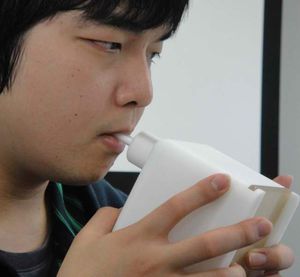 Come earthquake or high water (really high water), the Japanese are still plugging away at whatever gadget catches their fancy. At least this is the case with a team of researchers from the Kajimoto Laboratory at the University of Electro-Communications. Seen below is a young man putting what looks like a liquid soap dispenser in his mouth.
It's actually a tactile communications device, a rather drab term for a machine that transmits the motor sensations of kissing. So it's a two way kissing machine, huh? Here are a few words of explanation for extra insight:
This device is for communications within the mouth, in other words, the goal is to obtain the feeling of kissing."