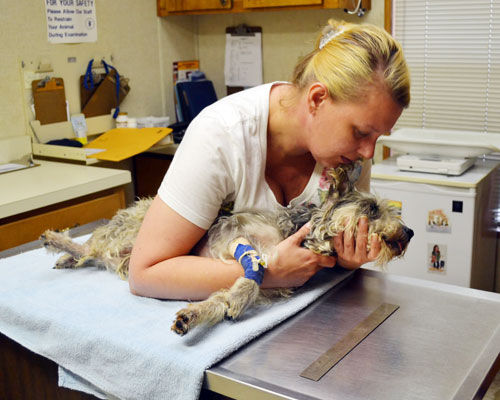 Joshua Gray of Sylva, a Frontier Communications employee, has been charged with misdemeanor cruelty to animals after a June 17 incident, according to the Jackson County Sheriff's Office.
Pepper, an 8-year-old miniature schnauzer owned by Gina and John Rarick of Dillsboro, sustained severe brain injuries after Gray hit her with a large test phone, according to Gina Rarick.
Pepper is currently in the care of Sylva Animal Hospital during the day, but Gina Rarick takes her home at night. Pepper's condition is unstable, but she can walk, and by early this week, Pepper was doing better, Gina Rarick said.
"She can walk but she walks in circles. That's the brain damage," she said. "She'll probably always walk in circles."