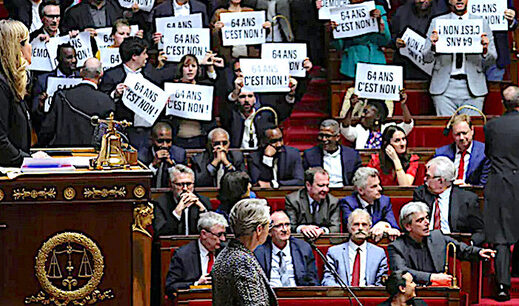 French president was booed in parliament after raising the retirement age without giving lawmakers a vote...
France is on the verge of a "democratic breakdown", Emmanuel Macron was warned last night after he rammed his
unpopular pension reform through parliament
without a vote.
The opposition said the controversial move was a denial of democracy and an admission of weakness while unions warned it was tantamount to a declaration of war.
A spontaneous demonstration of several thousand people erupted on Thursday night in the Place de la Concorde, in Paris, where fires were lit and protesters clashed with police.
To chants of
La Marseillaise
and "resign" from the opposition,
Élisabeth Borne, the French prime minister, announced that her minority government would
trigger article 49.3 of the constitution that bypasses a vote
.
In scenes of high tension, she declared: "We cannot gamble on the future of our pensions, and this reform is necessary."
Mr Macron reportedly told ministers during an Elysée crisis meeting that the "financial risks" were too great not to see the reform passed.