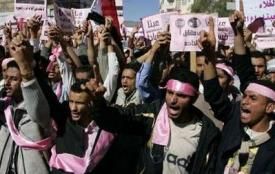 Sanaa - Thousands of Yemenis, apparently inspired by events in Tunisia and Egypt, staged a mass demonstration on Thursday calling on President Ali Abdullah Saleh to quit after being in power since 1978.
"Enough being in power for (over) 30 years," chanted protesters in demonstrations staged by the Common Forum opposition in four different parts of the capital Sanaa.
In reference to the ouster of Tunisian president Zine El Abidine Ben Ali, the demonstrators said he was "gone in just (over) 20 years."
But Yemeni Interior Minister Motahar Rashad al-Masri ruled out any resemblance between the protests in Yemen and the public outcry in the North African country that led to Ben Ali's departure.
"Yemen is not like Tunisia," he told AFP, adding that Yemen was a "democratic country" and that the demonstrations were peaceful.
But the slogans chanted in Thursday's Sanaa demonstration which lasted for two hours were firm in demanding the departure of Saleh.