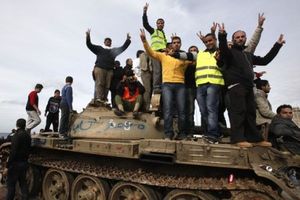 Libyan demonstrators have now taken control of key oil terminals in northern Libya as pro-democracy protests gain momentum across the North African country.
Oil terminals in the northern port cities of Ras Lanuf and Marsa El Brega are now controlled by pro-democracy protesters, Reuters reported on Thursday.
Earlier in the day, ten protesters were killed after government troops attacked the western city of Zuwarah, located 120 kilometers (74 miles) west of the capital Tripoli.
Several eastern cities have now fallen in the hands of demonstrators during 10 days of a revolution that has so far claimed the lives of 1,000 people.
Meanwhile, protesters have torn down Muammar Gaddafi's "Green Book" monument in the northwestern city of Misrata. The book contained the main tenets of political philosophy developed by the embattled 68-year-old Libyan ruler.