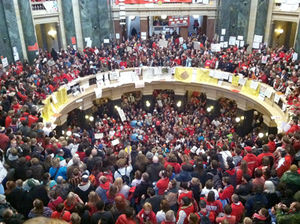 The movement of Wisconsin workers and youth against budget-cutting and attacks on government workers continued to spread on Friday, with tens of thousands more teachers and students walking out of their classrooms, while the major demonstration in Madison continued unabated.
Demonstrations that began on Monday with an unexpectedly large march of 1,200 University of Wisconsin graduate and undergraduate students have since drawn hundreds of thousands more into struggle. The crowd surrounding the capitol building on Tuesday grew to between 13,000 and 20,000, and demonstrations have been estimated at between 20,000 and 30,000 on Wednesday, Thursday, and Friday. A major demonstration is also expected today.
Friday may have been the largest demonstration yet. Buses brought an estimated 11,000 students and university workers to Madison from the University of Wisconsin campuses at Milwaukee, Eau Claire, La Crosse, Superior, River Falls, Green Bay, and Stout, while teachers and government workers continued to arrive in large numbers.