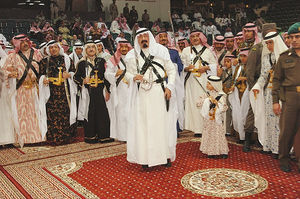 Saudi Arabia's King Abdullah has announced increased benefits for his citizens, as he returned after months abroad getting medical treatment.
There will be extra funds for housing, studying abroad and social security, according to state television.
King Abdullah has been away from the country for three months, during which time mass protests have changed the political landscape of the Middle East.
There have been few demonstrations in Saudi Arabia.
Hundreds of men in white robes performed a traditional sword dance at Riyadh airport as the king's plane touched down.
He disembarked and queues of people waited to personally greet him.
The streets of the city had already been decorated with welcome banners and national flags.