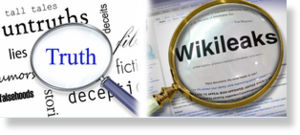 As our readers know, Sott.net doesn't always take the easy path, but we do try to take the right path and we don't like to get egg on our faces. If we think we are right in the face of all opposition, we'll stick to our guns. By the same token, if we discover we have made an error, we admit and correct it. We don't like to have to admit and correct errors and so, we try to avoid making them.
There's an old saying: 'Don't throw the baby out with the bathwater' and never was that saying more
à propos
than the current Wikileaks/Julian Assange situation. This saying is particularly relevant in respect of those who deride Wikileaks and Assange, and point out the many problems that this situation presents to the careful thinker and researcher. And here, we include ourselves at Sott.net to some extent. We have had to sit down and discuss and think about this issue long and hard and the following is the outcome of that reflection.