Radiation level rises faster than expected in Fukushima absorption machine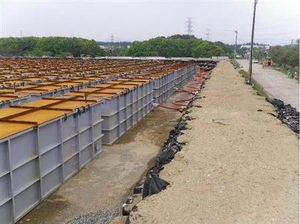 Tokyo - The operator of Japan's stricken Fukushima nuclear power plant said on Saturday it had suspended an operation to clean up radioactive water only hours after it had begun because radiation levels rose dramatically.
Tokyo Electric Power Company had undertaken the operation at the plant, disabled by the March 11 earthquake and tsunami, to avert spillage into the sea of large, growing pools of radioactive water.
A statement issued by the company, known as TEPCO, said the suspension, five hours after the operation began, was prompted by a sharp rise in radiation in a part of the system intended to absorb cesium.
"At the moment, we haven't specified the reason," a TEPCO spokesman told a news conference. "So we can't say when we can resume the operation. But I'd say it's not something that would take weeks."
The official said teams working at the plant believed the radiation rise could be linked to sludge flowing into the machinery intended to absorb cesium. Another cause could be pipes surrounding it.