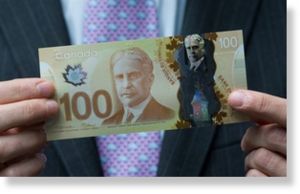 Get ready to have a little more plastic in your wallet.
Starting in November, new polymer bank notes will start to replace paper-cotton bills that wear and tear more easily.
The first bills to go plastic will be the $100 notes. The $50 notes will follow next March. The rest of the plastic money will be in circulation by the end of 2013.
The polymer bank notes are more durable than paper money. The Bank of Canada expects the new bills to last 2.5 times longer than the paper ones.
They're also harder to fake than paper money. Some of the security features built into the new notes include raised ink, hidden numbers and metallic images in see-through windows.