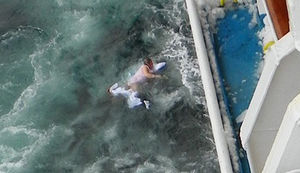 A Burscough couple were among the horrified witnesses of a bungled cruise ship rescue in freezing waters off the coast of Norway.
Colin Prescott, of Langdale Drive told
The Champion
that he and his wife Sheila were passengers on the
Ocean Princess
when a sick British woman being taken off the ship by Norwegian emergency crews was dropped on her stretcher into the icy sea.
Mr Prescott said: "The vessels, which hadn't been latched together, suddenly moved apart by several feet just as they were transferring her, which caused the rescue crews to drop the stretcher into the sea.
"We'd been told the sea was about minus three degrees that day. The rescue boat came back round to pick her up and she was taken to hospital, but she was in the water for about eight minutes or so, and I really want to find out whether she's okay."
Mr Prescott said that he and his wife had travelled on the
Ocean Princess
from Hull on March 20 to fulfill a lifetime ambition see Norway and the Northern Lights, which he described as "an unforgettable experience".