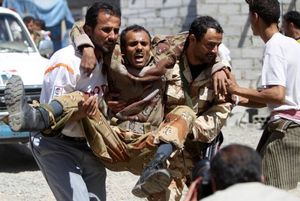 Yemeni police shot dead 12 people and injured dozens of others on Saturday as they opened fire on demonstrators in Sanaa demanding President Ali Abdullah Saleh's resignation, medics said.
Security forces used live rounds as well as tear gas and water cannon to try to disperse hundreds of thousands of Saleh opponents trying to march on loyalist areas of the city centre from their Change Square stronghold, witnesses said.
The death toll went up to at least 12 according to several medics as bodies were taken to four different hospitals.
Doctor Mohammed al-Qubati, the coordinator at a field hospital in the square, said two bodies were brought to the facility, and many others wounded, including at least 30 hit by gunfire, while 10 were in serious condition.
One of those killed with a bullet to the head was taken earlier to the same field hospital, along with 90 injured demonstrators, medics said, adding that the casualty toll was only preliminary.