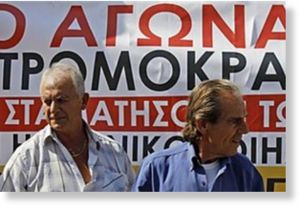 Greek civil servants protesting the government's austerity measures have occupied several ministries ahead of upcoming talks between the IMF and EU officials.
According to local media, the occupations began in the early hours of Thursday and will continue until Friday.
The protesters are opposing a new round of pay-cuts and layoffs imposed by the government and aimed at slashing its runaway deficit.
The protesters say they want to prevent the Greek Finance Minister from meeting the EU, the IMF, and the European Central Bank officials in Athens.