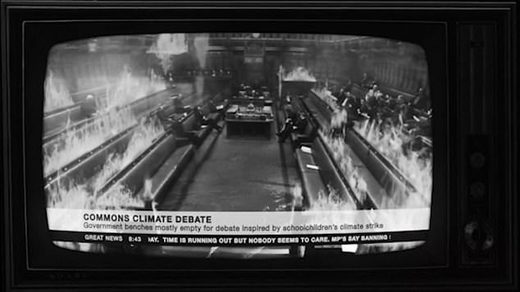 Extinction Rebellion is aiming to scoop the coveted Christmas number one slot
with its debut song about climate change.
The protest group has teamed up with four-man rock band The Jade Assembly to produce "Time for Change" which urges listeners to 'act now' on climate change 'before we're all dead'.
The track's video features footage from XR protests across the globe over the past six months, with a prominent focus on London.
The three-minute video starts with words flashing up reading 'this is not a drill' and 'act now'.
A mock news report then appears on a television which says: 'Breaking news, government declares: "Everything is fine".'
It then shows a doctored video of former Prime Minister Theresa May addressing the commons with a 'breaking news' banner underneath with the words: 'Government agrees to do absolutely nothing to avert environmental catastrophe.'
Mrs May can then be seen wearing a white pollution mask as two members of the cabinet behind her wear gas masks.
Various mock clips are then shown, including
a flooded Downing Street and the houses of commons set on fire
.