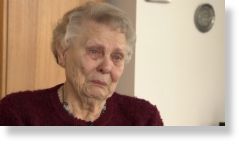 An 82-year-old woman says she was humiliated by airport security who forced her to reveal her gel prosthesis during a recent public pat-down at Calgary's airport.
Elizabeth Strecker, who was flying to British Columbia after visiting her children last week, says that she will never fly again following the incident.
"It was terribly humiliating and embarrassing for me," she told CTV British Columbia in an interview.
Her ordeal began as Strecker was going through security checks at Calgary's airport.
But when a pin in her leg set off a metal detector, she was directed to a body scanner.
Next, she was asked if she was carrying any liquids or gels, which are barred from flights unless they are in small amounts.
When asked, Strecker demurred: "I didn't think I had to tell the whole world I had a mastectomy."