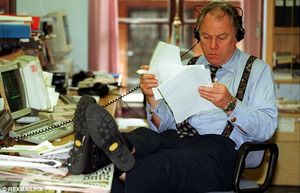 Institutionally biased to the Left, politically correct and with a rudderless leadership. This is Peter Sissons' highly critical view of the BBC in his new memoirs, in which he describes his fascinating career over four decades as a television journalist. Here, in the latest part of our serialisation, he reveals how it was heresy at the BBC to question claims about climate change . . .
My time as a news and ­current affairs anchor at the BBC was characterised by weak leadership and poor ­direction from the top, but hand in hand with this went the steady growth of political correctness.
Indeed, it was almost certainly the ­Corporation's unchallengeable PC culture that made strong leadership impossible.
Leadership - one person being in charge, trusting his or her own judgment, taking a decision and telling others what to do - was shied away from in favour of endless meetings of a dozen or more ­people trying to arrive at some sort of consensus.