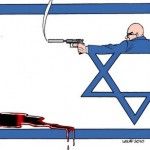 My father is an Iraqi Hebrew whose native tongue is Arabic, and my mother is half Moroccan Hebrew who was born in Boston. Her other half is ethnic white Russian.
I was raised in an outspoken anti-Zionist household, that pushed the boundaries of prejudice towards Ashkenazim, and while I do not condone my father's feelings exactly, I do believe they are justified and have an undeniable validity. While I do not identify with any religion, I cling to my roots because of the struggle they represent. My uncle Isaac, my cousin Michah, his Palestinian fiancee Jamilah, my Ethiopian Hebrew mentor Nehemiah Judah, my friend Esther Shifaz, and her comrade Reza Ahmad, have all died at the hands of the Zionist entity. May they all rest in peace.
There have been many words used to describe the situation in Israel between the Zionist colonialists and the indigenous Palestinians. It has been called a conflict. It has been called a quagmire. It has been called a struggle. But after the deaths of 1.5 million Palestinians, an estimated 50,000 Israelis, and 4.5 million Palestinians becoming refugees in their own land, there is only more word that possesses acceptable suitability. And that word is tragedy. When innocent people become the pawns in a chess game played by the powers that be, and their very existence is expendable in the eyes of these powers, that, is by its very nature, tragic. While there has been casualties on the Israeli side of the fence, or in this case, a 405 mile long, 25-foot-high barbed wire laced block, appropriately and menacingly titled The Iron Wall, it is the result of the ever-growing occupation. The Universe thrives when the forces of balance are in constant motion. It is a surefire sign that it is functioning properly. And in the eyes of the cabal running this world, the morbid opposite of occupation, is of course, resistance. It is only logical. If a man walks into your home, rapes your wife, kills your children, then politely informs you he will be moving his wife and children in, are you going to allow him to do so? Whether you are the type of human being that believes in fighting back, or whether you are a pacifist, at this point, your animal instincts will kick in, and you strike back against this murdering psychopath on the motivation of your survival mechanism. This scenario is a quite literal interpretation of the Israeli-Palestinian tragedy.