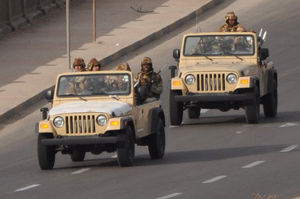 Cairo - The bodies of protesters shot to death by forces loyal to Moammar Gadhafi were left on the streets of a restive district in the Libyan capital Tuesday, an opposition activist and a resident said, while the longtime leader defiantly went on state TV to show he was still in charge.
The eruption of turmoil in the capital after a week of protests and bloody clashes in Libya's eastern cities has sharply escalated the challenge to Gadhafi. His security forces have unleashed the bloodiest crackdown of any Arab country against the wave of protests sweeping the region, which toppled leaders of Egypt and Tunisia.
The U.N. Office of the High Commissioner for Human Rights, citing sources inside the country, said Tuesday that at least 250 people have been killed and hundreds more injured in the crackdown on protesters in Libya. New York-based Human Rights Watch has put the toll at at least 233 killed. The difficulty in getting information made obtaining a precise figure impossible.