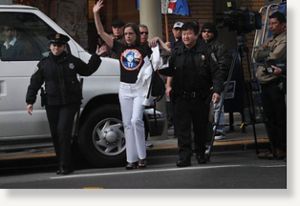 President Obama's pricey breakfast fundraiser today at the St. Regis Hotel in San Francisco was interrupted by a crowd of singing protesters who paid $76,000 for tickets to air their feelings about the treatment of Pvt. Bradley Manning, the alleged leaker of U.S. military documents posted on WikiLeaks.
Oakland activist Naomi Pitcairn told
The Chronicle
that she put up the funds for tickets for a crowd of protesters from freshjuiceparty.com, a liberal group that aimed for "performance art" at Obama's final fundraiser in the city before flying to Los Angeles, the next stop on his trip to promote his deficit plan and raise money for his re-election campaign.
A crowd of political luminaries was assembled in the dining room at the St. Regis to hear Obama, including U.S. Sen Dianne Feinstein, House Minority Leader Nancy Pelosi, former San Francisco Mayor Willie Brown, Lt. Gov. Gavin Newsom and state Attorney General Kamala Harris.
Gov. Jerry Brown, who showed up to the hotel, left before the president began speaking to the crowd of about 200 supporters, who paid anywhere $5,000 to $35,800 apiece to see him.
The Bay Area protesters included UC Santa Cruz art professor Elizabeth Stephens; songwriter Craig Casey; activist Jane Sullivan of Santa Cruz; writer Greg Archer; David Schiller of Berkeley; and organizers from Tony's Circus, a performance group.