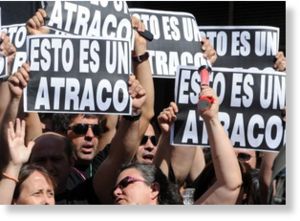 Hundreds of Spanish firemen, police officers and nurses marched yelling through the streets Monday, denouncing as "robbery" the pay cuts enforced under Spain's latest fiscal emergency plan.
"Hands up, this is a robbery," cried protestors as they blocked a major thoroughfare in central Madrid in a demonstration organised through messages on social networking sites such as Twitter.
The latest protests erupted after Prime Minister Mariano Rajoy last week announced new pay cuts and tax increases, aiming to save 65 billion euros ($80 billion) in order to lower the public deficit.
Spain is suffering its second recession in four years, with an unemployment rate of more than 24 percent.
Cuts to public budgets are already affecting services such as schools and hospitals and critics say Rajoy's new austerity measures will worsen economic conditions for ordinary people.
Among the latest steps is a cut in the Christmas bonus paid to civil servants, equivalent to a seven-percent reduction in annual pay.