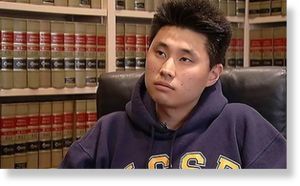 US, San Diego - A college student picked up in a drug sweep in California was never arrested, never charged and should have been released. Instead
he was forgotten in a holding cell for four days
and says he had to drink his own urine to stay alive.
Without food, water or access to a toilet, Daniel Chong began hallucinating on the third day.
He told The Associated Press in an interview Wednesday that he saw little Japanese-style cartoon characters that told him to dig into the walls to find water. Chong tore apart the plastic lining on the walls.
"I ripped the walls and waited for the room to flood for some reason," said the 23-year-old University of California, San Diego, student, three days after he left the hospital where he was treated for dehydration and kidney failure. "I can't explain my hallucinations too well because none of them make sense."
Later he added, "I felt like I was completely losing my mind."
Four days later, agents opened the door on a fluke and found him covered in his own feces, Chong said.
The top Drug Enforcement Administration agent in San Diego apologized Wednesday for Chong's treatment and promised an investigation into how his agents could have forgotten about him.