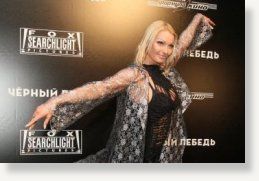 A scandal-prone Russian ballerina on Monday accused the Kremlin of pulling two television shows about her after she voiced sympathy for jailed oligarch Mikhail Khodorkovsky and quit the ruling party.
Anastasia Volochkova accused the Kremlin's chief ideologue Vladislav Surkov of ordering two talk shows to be taken off the air on Friday, linking this to an obscenity-strewn interview she gave about Khodorkovsky.
"My director told me that the
Let Them Talk
show ... was pulled on the personal order of Vladislav Surkov," the former Bolshoi ballerina wrote on her blog about the state-owned Channel One's highest-rated talk show.
She added that a second discussion show in which she was due to appear Friday,
NTVshniki
on NTV channel, was also pulled.
Speaking to AFP by telephone from the city of Samara on Monday, Volochkova said that she believed the decision to pull the shows was "revenge" from the ruling United Russia party, which she joined in 2003.
"When I joined the party, I never thought I would have this feeling: it's like I was a member of a gang and if I take a step back, there will be revenge," she said.
She said the Channel One show's host had phoned the channel's director to try to save the show and told her the decision had been taken on a "very high political level."