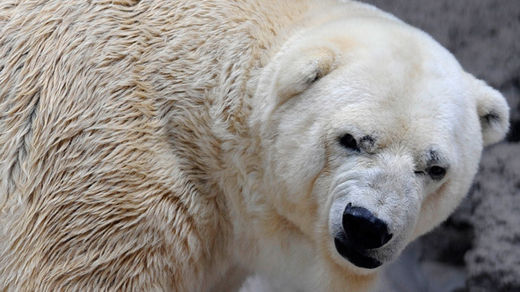 More than 450,000 people have signed an online petition calling for a heart-broken polar bear living in squalid conditions in Argentina to be transferred to Canada.
Supporters of the change.org
online appeal
are well on their way to hitting the 500,000 benchmark, having nearly doubled the number of signatures in the last 24 hours.
Often dubbed 'the world's saddest animal,' Arturo lives in a cramped cage with little room to walk in Argentina's Mendoza Zoo.
Temperatures sometimes hit 104F (40C)

, and the 29-year-old polar bear, clearly not designed for such a climate, only has a 20-inch-deep pool to keep him cool.
To make matters worse, Arturo's long-time friend Pelusa died two years ago. Animal rights campaigners say Arturo has exhibited signs of depression since the death, fearing the abnormal behavior mirrors that of
'Pelusa the Purple Polar Bear
' before she passed away.