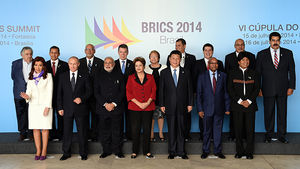 One of my high school history teacher's favorite topics was the European revolutionary movement of 1848, or as he would put it, time and again, 'the turning point where Europe failed to turn'.
"What do you think the test will be on?"
the students would ask each other sarcastically, after another lengthy rumination,
"The turning point where Europe failed to turn?"
But I never forgot the phrase or the events it denoted, and I think that current economic crisis could well go down in history as the turning point where the entire Western world failed to turn.
The recent creation of the New Development Bank by the BRICS nations (Brazil, Russia, India, China and South Africa), which will compete with the IMF and World Bank, is yet another example of how international control is skittering away from those nations that are failing to adapt to a changing world.
In a certain sense, falling behind like this is actually quite an achievement, given that Western countries not only invented the IMF and World Bank - up until now, the preeminent international lenders of last resort - but also gave themselves a controlling stake within both institutions. They set the rules of the game. Therefore, all they had to do to stay on top of that game was throw the other players a crumb once in a while.
It's not exactly rocket science.