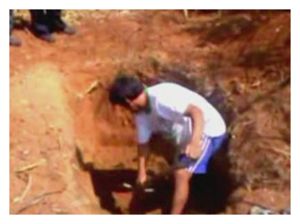 A shaman has admitted trying to cover up the death of an American teenager who died after eating an hallucinogenic plant by burying him in the grounds of his Amazon retreat.
Kyle Nolan, 18, died after drinking extracts of a psychedelic plant called ayahuasca during a ritual in the Madre de Dios jungle region of Peru.
He was reported missing ten days later when he failed to return to the US.
His mother Ingeborg Oswalo, from northern California, travelled to Peru and launched a media appeal for information after police failed to find him.
He was eventually traced to the Shimbre Shamanic Centre, near Tres Islas, but shaman Jose Manuel Pineda Vargas, 58, told them he had disappeared from the area.
He later confessed to burying him in the grounds of the retreat, and was arrested with two other men who helped cover up the death.