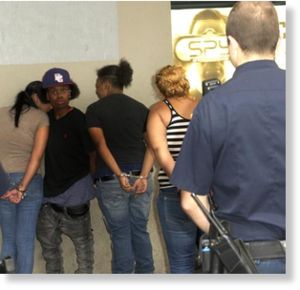 Apparently, courtesy isn't contagious on the No. 6 train.
A drunken, rowdy group of young women stabbed a 63-year-old male straphanger this morning after he had the audacity to suggest they pipe down, authorities said.
"The eight females were acting stupid. He just told them, 'Relax, calm down,' '' one police source said.
Cops said the victim, whose name they have not released, was first assaulted and then stabbed in the left shoulder about 6:15 a.m.
Witnesses pointed out his attackers to cops and all eight women, ages 15 to 20, were arrested leaving the 23rd Street station, officials said.
An MTA bus driver who witnssed the bust said the women were carrying bottles of Corona and mouthed off to cops as they cuffed them, screaming "We didn't do anything!" as they were led away.
The man was in stable condition at Bellevue Hospital, cops said.