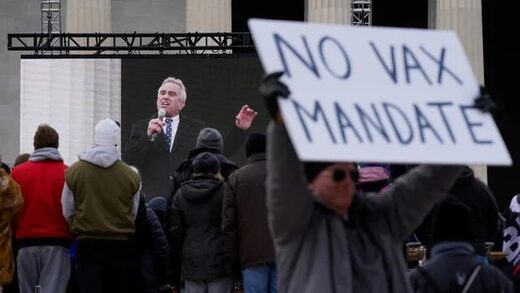 The Auschwitz Memorial denounced comments made by Robert F. Kennedy Jr.'s at an anti-vaccine rally in Washington DC on Sunday as "exploiting the tragedy" of the Holocaust.
During a speech at the rally, Kennedy,
a conspiracy theorist and prominent anti-vaxxer
, warned of a massive surveillance network being created with satellites in space and 5G mobile networks collecting data.
Comment:
To clarify, it was an anti-mandate rally, not an "anti-vaccine rally." And calling RFK a "conspiracy theorist" is also intended as a smear (someone who points out conspiracies with evidence is not a "theorist," after all). By mischaracterizing it, The Hill is clearly indicating they've taken sides (not that this is a big shocker).
See:
Tens of thousands gather in Washington to call for an end to Covid mandates (UPDATE)
"Even in Hitler's Germany, you could hide in the attic like Anne Frank did," Kennedy
said
, illustrating his point that surveillance today is all-encompassing.