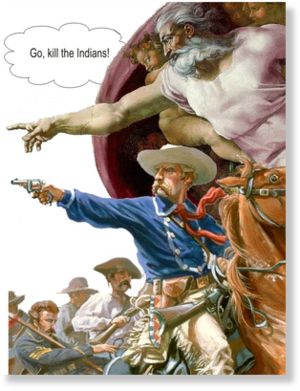 Yes, I know, as many readers will be quick to inform me, the West never had any morality. Nevertheless things have gotten worse.
In hopes that I will be permitted to make a point, permit me to acknowledge that the US dropped nuclear bombs on two Japanese cities, fire-bombed Tokyo, that Great Britain and the US fire-bombed Dresden and a number of other German cities, expending more destructive force, according to some historians, against the civilian German population than against the German armies, that President Grant and his Civil War war criminals, Generals Sherman and Sheridan, committed genocide against the Plains Indians, that the US today enables Israel's genocidal policies against the Palestinians, policies that one Israeli official has compared to 19th century US genocidal policies against the American Indians, that the US in the new 21st century invaded Iraq and Afghanistan on contrived pretenses, murdering countless numbers of civilians, and that British prime minister Tony Blair lent the British army to his American masters, as did other NATO countries, all of whom find themselves committing war crimes under the Nuremberg standard in lands in which they have no national interests, but for which they receive an American pay check.
I don't mean these few examples to be exhaustive. I know the list goes on and on. Still, despite the long list of horrors, moral degradation is reaching new lows. The US now routinely tortures prisoners, despite its strict illegality under US and international law, and a recent poll shows that the percentage of Americans who approve of torture is rising. Indeed, it is quite high, though still just below a majority.