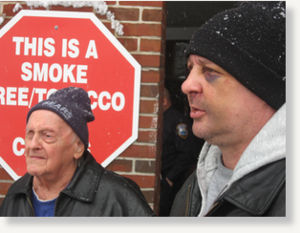 Son Saves The Day But Only After Getting Beaten Up, Too
Police on Staten Island are looking for a man and woman robbery team that viciously attacked an elderly couple as they were entering their home on Sunday night.
As CBS 2's John Slattery reports from the Tompkinsville section is the borough, it was the victims' son who put an end to the beatings.
Joseph Naimo, 81, and his son, Rocco, were recovering Wednesday night from the beatings they received. Joseph's wife, however, took the worst of the attack.
"They beat her up bad. They beat her up bad. They beat her up very bad," Joseph said.