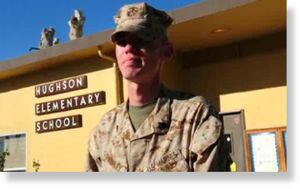 One day after Nashville Marine takes post outside children's school, a Marine and expecting father in California has done the same.
Another Marine has taken up a post outside his local elementary school.
Marine Sgt. Craig Pusley, 28, of Hughson,
told the Modesto Bee
he decided to stand outside Hughson Elementary School after reading a Facebook message urging soldiers to guard their local schools after Friday's horrific Sandy Hook school massacre.
"When I enlisted, I swore to defend this country from all enemies, foreign and domestic," he told the newspaper.
The young father, who has a 3-year-old son and another on the way with his wife, Kristina, is dressed in combat fatigues, but isn't armed.
He said he doesn't need a weapon.
"I don't have a fear in the world that if someone came here, I'd have the strength and the ability to protect (the school)." he said.