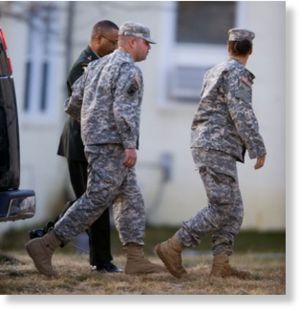 Fort Carson, Colorado - A weeping Army sergeant on Thursday apologized to the family of a female soldier he admitted killing, after a military panel convicted him of unpremeditated murder and sentenced him to life in prison.
Sgt. Vincinte Jackson said he doesn't know why he killed Spc. Brandy Fonteneaux, 28, of Houston. She was found dead Jan. 8 in her barracks room, stabbed 74 times. A military panel sentenced Jackson to life in prison with the possibility of parole, though prosecutors couldn't immediately say how many years he would serve before becoming eligible.
"I will be forever haunted by what happened," Jackson said. " ... It's only fair that I continue to have nightmares about what I've done."
His testimony came at the end of an emotional sentencing hearing that included statements from the families of Jackson and Fonteneaux.
The same panel of eight soldiers who convicted Jackson decided his sentence. The potential sentence for unpremeditated murder ranged from no punishment to life in prison without parole.
The panel -- the equivalent of a jury in a civilian trial -- convicted Jackson earlier Thursday after 2 1/2 hours of deliberations. It acquitted Jackson of premeditated murder, which carries a sentence of up to life in prison without parole.
Prosecutors asked for life without parole, while Jackson's defense attorneys asked for 28 years.