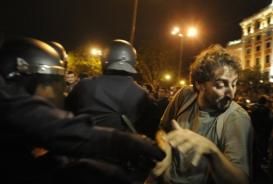 Spanish police have fired rubber bullets and baton-charged protesters attending a rally against austerity.
The clashes broke out as protesters tried to tear down barriers blocking access to the parliament in Madrid.
Spanish media reported that at least 20 people had been arrested and more than a dozen injured. The protesters dispersed after MPs left the building.
The "Occupy Congress" protest came as the government prepares to unveil further austerity measures on Thursday.
It is attempting to shrink its budget deficit, with the country in its second recession in three years and unemployment near 25%.
The government will unveil the draft budget for 2013 on Thursday and is expected to present new cost-saving reforms to reassure lenders about the state of the country's public finances.