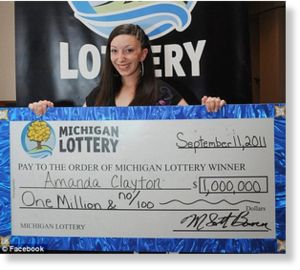 Three months after pledging to turn her life around and get a job, a lottery winner convicted of fraud has died from a suspected overdose.
In June Amanda Clayton pleaded no contest to fraud, having continued to collect state welfare handouts despite pocketing her $1 million prize.
She accepted her punishment and was said by her lawyer to be trying to move on. But on Saturday morning she was found dead at her Michigan home.
Ecorse police Sgt. Cornelius Herring confirmed that the 25-year-old's was discovered at about 9 am, thought to be the result of a drug overdose.
No further details were given and Clayton's relatives did not immediately return a phone message for comment.
Clayton won the Michigan Lottery in September 2011, continuing to collect $5,475 in food handouts over the subsequent months.