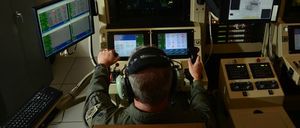 Intimate look at Afghan family life from above does impact execution of 'duty,' say US drone pilots
In a
profile piece
in the
New York Times
on Monday, interviews with military operators of US drones operating in the skies over Afghanistan and Pakistan reveal a class of pilots who remotely control the targeted killings of human beings thousands of miles away.
"I see mothers with children, I see fathers with children, I see fathers with mothers, I see kids playing soccer," says Colonel Brenton, one of the pilots profiled who works out of a dark control room in the suburbs of Syracuse, New York.
But, when it comes to engaging the target and after stipulating this means that the children and mothers away from the fire zone -- for example, "out at the market" --
he says: "I feel no emotional attachment to the enemy. I have a duty, and I execute the duty."