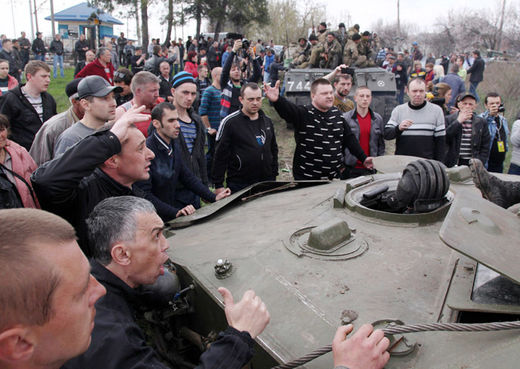 Kiev's military faced off with protesters in east Ukraine on Wednesday to sort out their differences...and found none. Soldiers appeared reluctant to go into battle against anti-government activists.
When Ukrainian Armored Personnel Carriers (APCs) entered downtown Kramatorsk as part of Kiev's military operation against anti-government protesters in the east of the country, they were stopped in their tracks, surrounded by crowds of local residents.
One YouTube video of what happened next shows a woman coming to a soldier with the reproach: "
You are the army, you must protect the people.
"
"
We are not going to shoot, we weren't even going to
," is the soldier's reply.
Similar conversations could be heard at each of several APCs which entered the city, with locals promising to defend their neighbors, in case the soldiers start a military operation.
Military vehicles parked in downtown Kramatorsk have turned into hotspots for political discussion, with people beside the vehicles trying to get their views through to people on top of the tanks.
Another video features the Kramatorsk crowds loudly chanting
"Army with the people"
and applauding the soldiers as they were leaving their APCs.
"Guys, we are with you! You are great!"
women are heard yelling to the vacating soldiers.