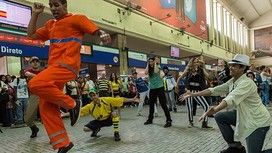 Daltson Takeuti is not how you would picture one of the leaders of
Brazil
's flashmob movement that is sweeping across shopping centres, sparking violent clashes with police. The soft-spoken 55-year-old teaches piano for a living and has never organised a protest in his life.
But around 1,000 people are expected to turn up at São Paulo's upmarket JK shopping centre on Saturday for a gathering - known as a '
rolezinho
' - which he has organised over Facebook.
Mr Takeuti was motivated to act by a crackdown on other flashmobs, which began last month as parties but have become more political. "I couldn't bear to see the criminalisation of poor, black kids," he says.
Similar protest-cum-rampages are planned in at least eight other states across Brazil this weekend, with more than 8,000 expected at one shopping centre in Rio de Janeiro. Popular among poor, largely black, Brazilians, the flashmobs have begun to snowball into a nationwide movement against racism and inequality, threatening the government with further violent mass protests just as the country prepares to host the football World Cup, academics say.
In June the biggest
protests
in 20 years spread across Brazil following complaints over a bus fare increase, bringing businesses in Latin America's biggest economy to a standstill and prompting a
plunge
, albeit temporary, in President Dilma Rousseff's popularity.
Ms Rousseff called an emergency meeting with ministers this week to discuss the
rolezinho
"phenomenon", concerned it would spiral out of control, local media reported. As well as steering Brazil through a trouble-free World Cup, Ms Rousseff will have to battle for her re-election during presidential elections in October.
"
The government has good reason to be worried
," says Rafael Alcadipani, at the Getúlio Vargas Foundation (FGV), an academic institution. "The
rolezinhos
can be seen as a remodelling of last year's protests but this time by the people from the city's periphery," he says, pointing to a similarity with the London riots of 2011.