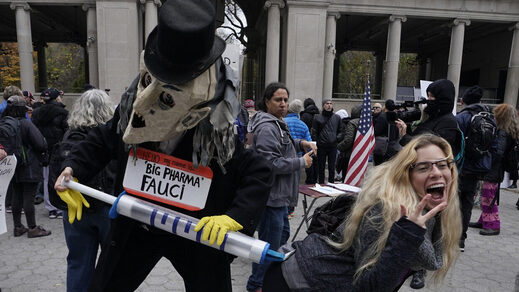 Liberal feminist author Naomi Wolf dared to take her alarm about the US' slide into totalitarian dictatorship onto Tucker Carlson's Fox News show,
triggering a predictable uproar that largely ignored the police state issue.
Naomi Wolf, who has studied and written extensively about how democratic societies devolve into totalitarian regimes, told the Fox News host "there are 10 steps that would-be tyrants always take when they want to close down a democracy," ending with "suspension of rule of law." Wolf noted the US had sunk to that level over the last year, imposing draconian Covid-19 restrictions at the speed of light without even the slightest nod to the democratic process.
"I know from history that no one gives up emergency policies willingly, they always drag it on and drag it on," she explained, pointing out that "only from studying history do I know how predictable it is when you start to have elected officials say 'No, we're not going to follow the constitution because there's a pandemic.' Nowhere in the constitution does it say 'all this can be suspended if there's a bad disease.'"