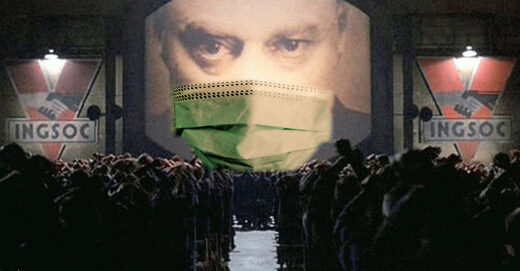 Julius Caesar's crossing the Rubicon River in 49 BC in defiance of Roman law placed him and his army on a direct collision course with Rome, leading to the Civil War which established him as Roman dictator. It is a well-established metaphor for a point at which there is no going back and at which things will never be the same.
I predicted a few weeks ago that the UK Government would in the near future try to force everyone to wear facemasks in public. Leave aside the plethora of information that makes it clear face masks are of practically zero benefit in everyday circumstances, and may in fact be dangerous,
the forced wearing of facemasks is a transgression so fundamental and of such significance that it is difficult to adequately express.
It implicitly hands your body over to state control, and renders one of your most basic existential freedoms subject to state interference. For the first time, the right to exercise a choice of whether you should inhibit your respiratory faculties and hide your face in public is taken out of your hands. If you doubt the significance of this,

try to remember the public outcry that followed a debate regarding banning the wearing of burkhas and hijabs in the face of Islamic terrorism, and the connotations this had for civil liberties at the time.