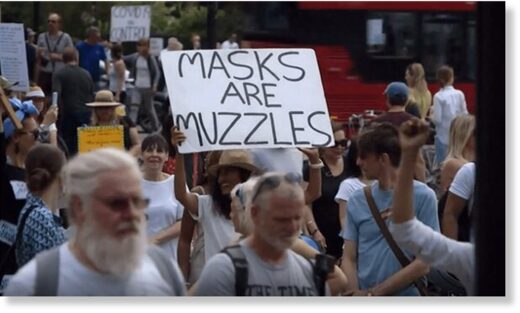 Activists took to the streets of London a day after the UK cabinet expanded its guidelines for mandatory face coverings. The demonstration comes amid growing skepticism worldwide over the efficacy of such policies.
A large group of demonstrators assembled in Hyde Park on Saturday, where they listened to speeches denouncing the government's anti-coronavirus measures. Piers Corbyn, brother of former Labour leader Jeremy Corbyn, was among the speakers.
Carrying placards reading "Stop the new normal, save lives,""Freedom over fear," and "Masks are muzzles," the protesters then marched towards Downing Street, stopping outside BBC headquarters along the way.
Footage from RT's Ruptly video agency shows a huge crowd, most without masks, filling the streets of the UK capital as they marched toward Downing Street.