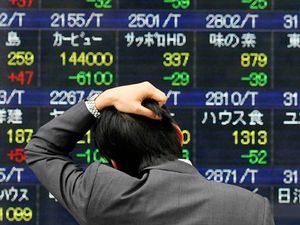 Wall Street followed Japanese stocks lower Monday, as investors worried about the impact of Friday's devastating earthquake and tsunami that laid waste to cities along Japan's northeast coast, killing thousands and causing tens of billions of dollars in damage.
The Dow Jones industrial average was lately down 90 points. Shares in Europe mostly fell, led lower by shares of insurance and luxury shares on worries over the sectors' exposure to Japan.
"The market is clearly focused on Japan," said Peter Kenny, managing director at Knight Equity Markets in Jersey City, N.J. "It's the horror of the human toll and secondarily what it means for global demand."
Earlier Monday, the Tokyo stock market plunged, closing down 6.18 percent on its first day of business after the earthquake and tsunami. Shares in other Asian markets were mixed.
Oil prices dropped below $99 a barrel as the disaster threatened to send Japan, the world's third-largest economy, into a recession that could crimp demand for crude. In currencies, the dollar was down against the yen and the euro.